Fabbrica is the home of Mortadella Bologna PGI.
Fabbrica is a unique experience where knowledge and pleasure involve every sense.
Fabbrica is a travel back in time where today's flavours, yesterday's scents and tomorrow's plans are entwined.
Fabbrica is a place where you can see live the main production phases of one of Italy's most beloved excellence: from bagging to hand-tying, from cooking to cold showering.
Fabbrica is the perfect location to taste all goodness of Mortadella Bologna PGI, a space to discover original recipes and innovative combinations, to underline the product's versatility.
Fabbrica is in Bologna at Fico Eataly World, Italy's biggest gastronomic park which, with its 80.000 mq, is home to factories, shops, restaurants, educational areas and a wide exposition of animals and plants.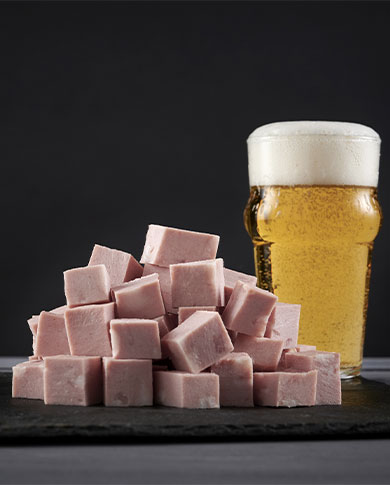 Only at Fabbrica, through its transparent walls, it is possible to witness the making of Mortadella Bologna PGI. A genuine form of art, protected by a disciplinary of production, where the main stages of production are shown: bagging, tying, cooking and showering.
Mortadella Bologna PGI's uniqueness and quality come from the exceptional attention to ingredients and techniques used.
"Selected pork cuts are minced and mixed with lardons, spices and natural flavours into a dough that is then bagged and cooked in special ovens. Cooking is the most important stage, where Mortadella Bologna gets its scent and incredible texture. Where the temperature reaches 70° at heart, it is time for the last stage, showering, to preserve all goodness of Mortadella Bologna PGI".
Fabbrica has always something new to offer.
During the year, several associated manufacturers take turns in presenting their own personal recipe, because every Mortadella is unique!
At Fabbrica it is possible to buy Mortadella Bologna PGI at km 0, made directly at the site, in different sizes: you can bring home all its excellent taste or give it as a gift to friends and family.
At the emporium it is possible to buy also Lina, Consorzio Italiano Tutela Mortadella Bologna's amazing mascot.
Here at fabbrica you can find a rich calendar of events and initiatives for all Mortadella Bologna's lovers.
"At school with Mortadella" is a course for primary schools and hotel schools, where students have the possibility to discover the secrets behing Mortadella Bologna's true excellence.
"Discover the Pink Queen" is a guided tour inside the production site at Fabbrica, where you can learn product's history, techniques and peculiarities. At the end of the tour, there is a fine tasting of Mortadella Bologna PGI!
Mystery Box is a fun cooking class for all visitors, where everybody have a chance to follow their creativity and try new pairings.